Made during a one month residency in April 2018, hosted by the Institut für Alles Mögliche at the Hauptstadtstudio in Friedrichshain, Berlin.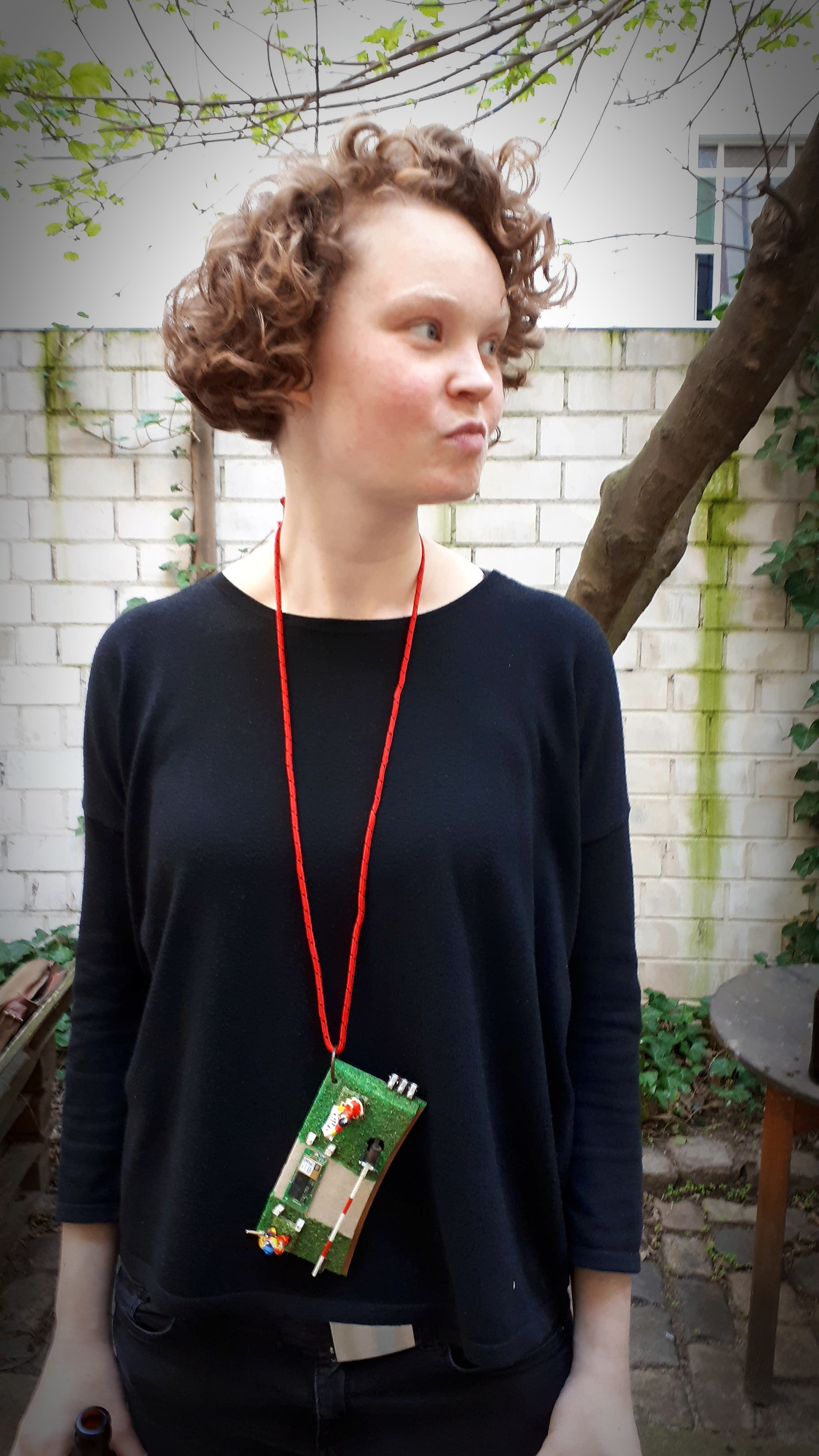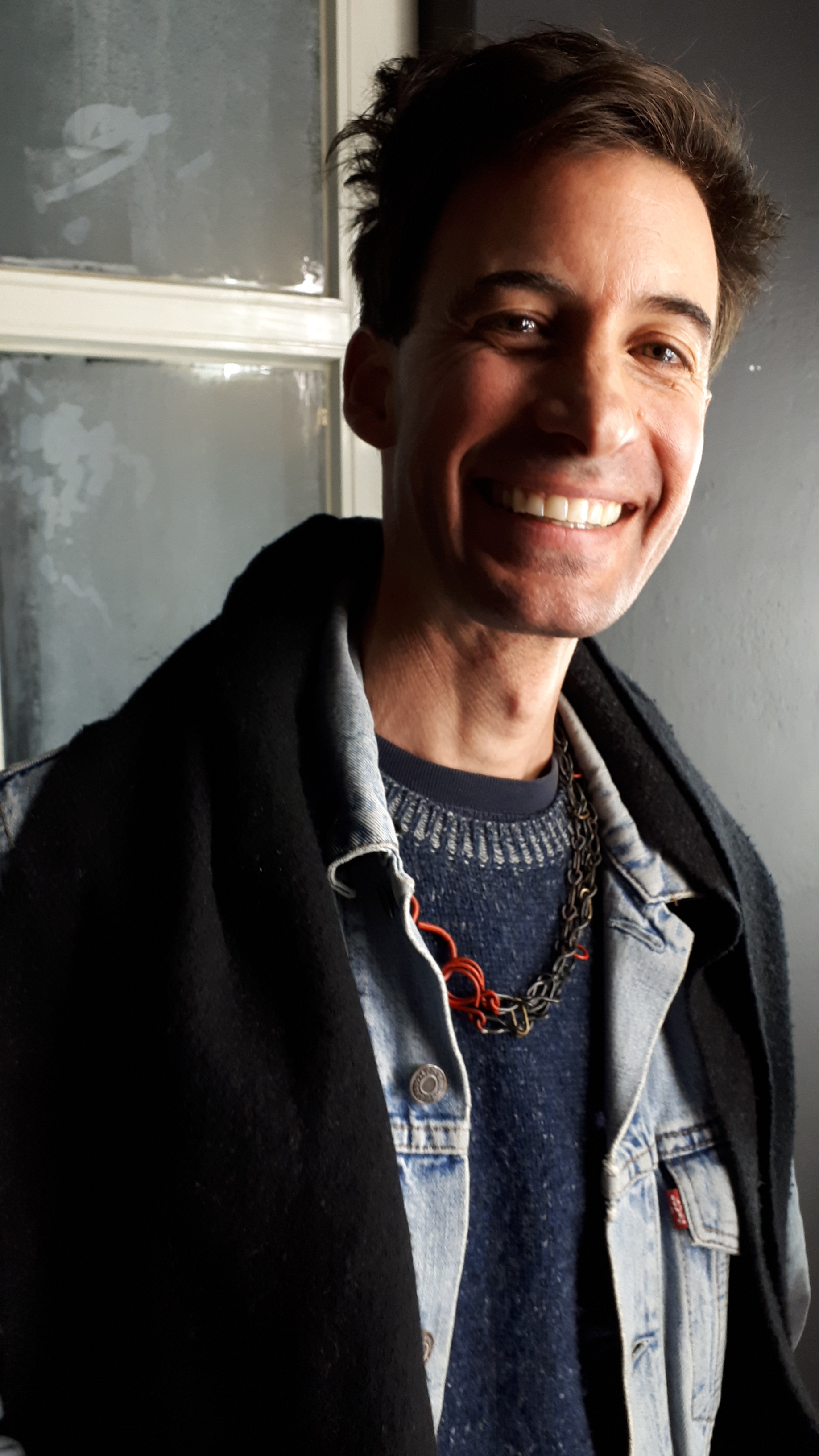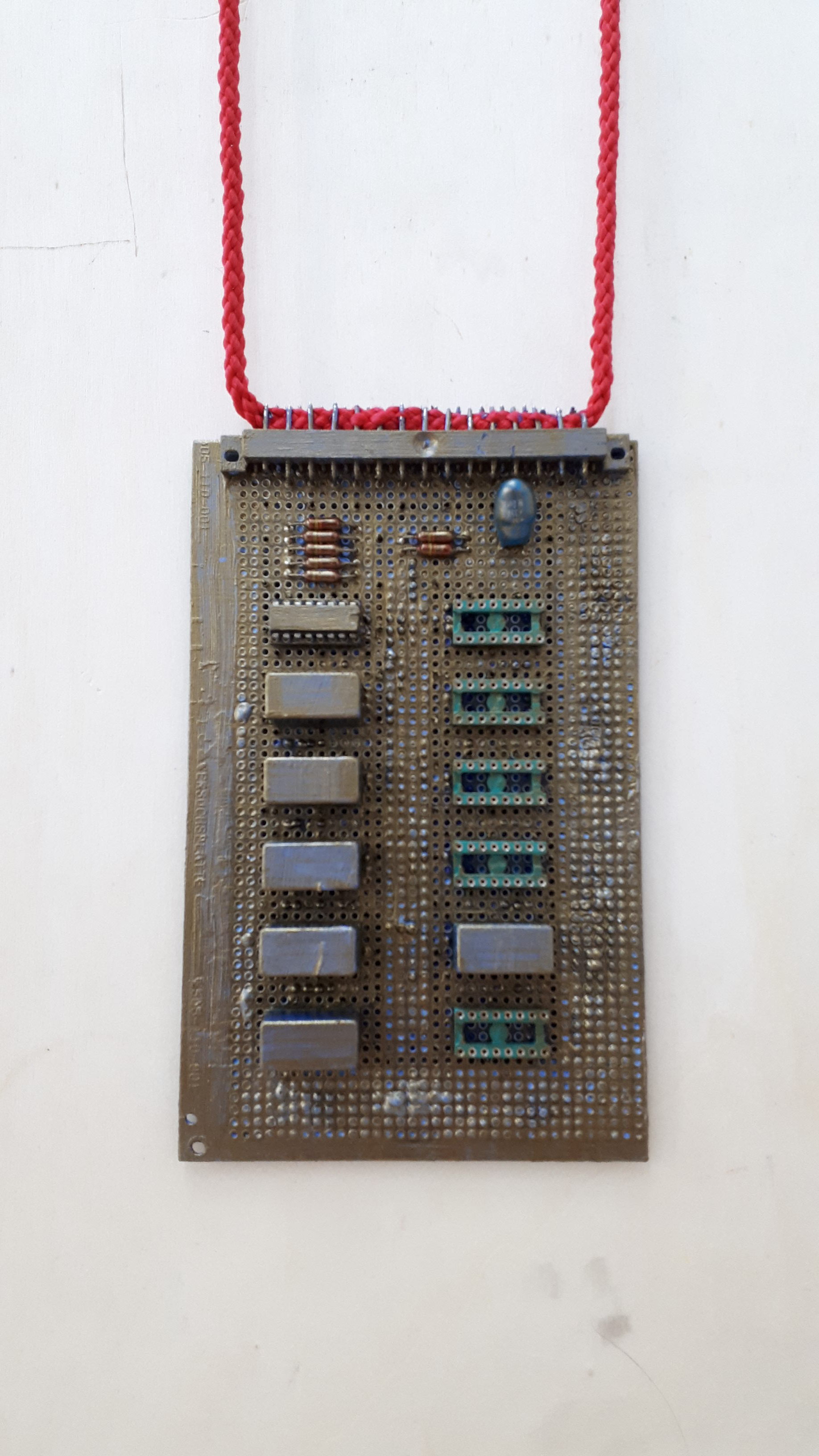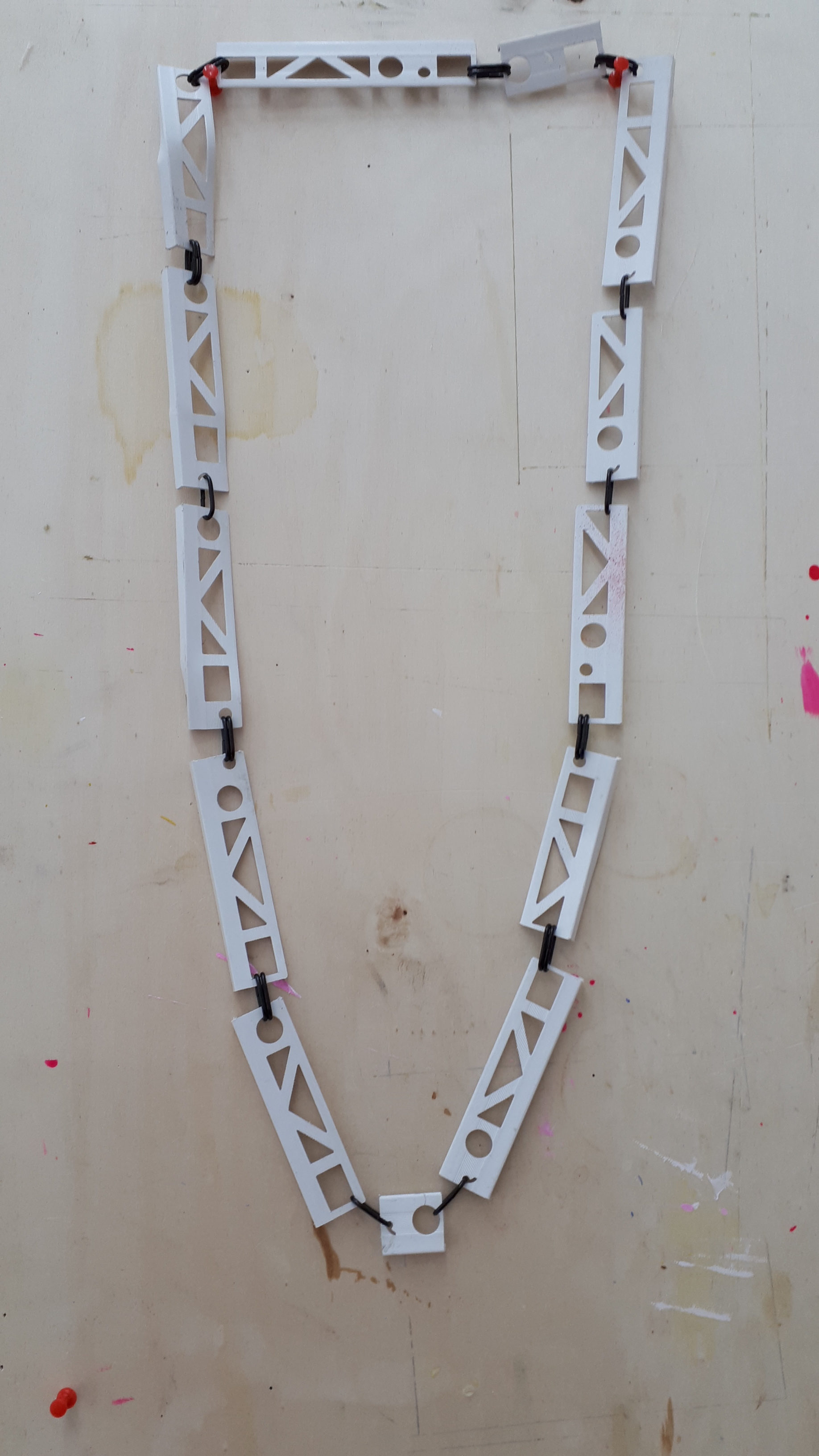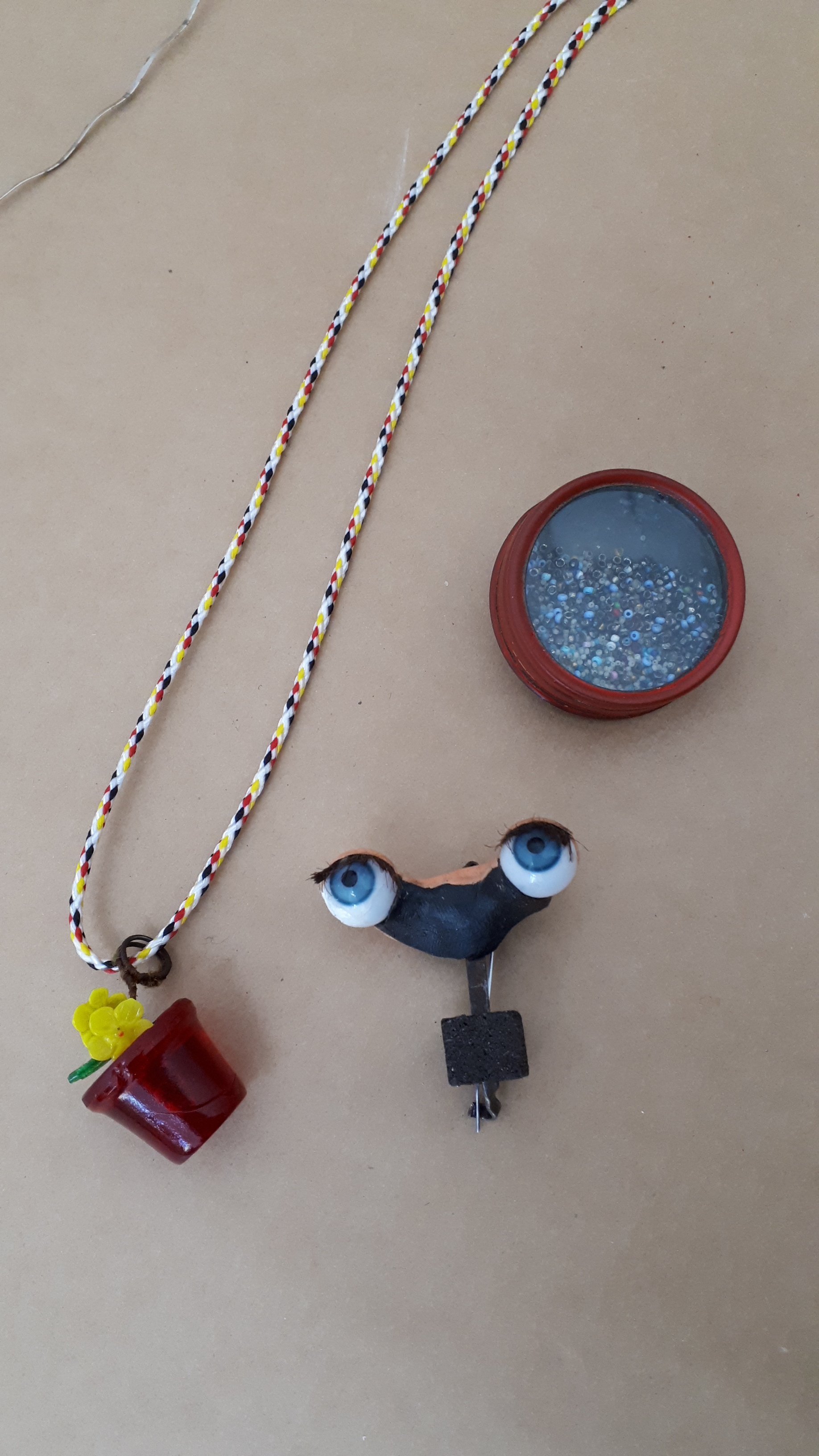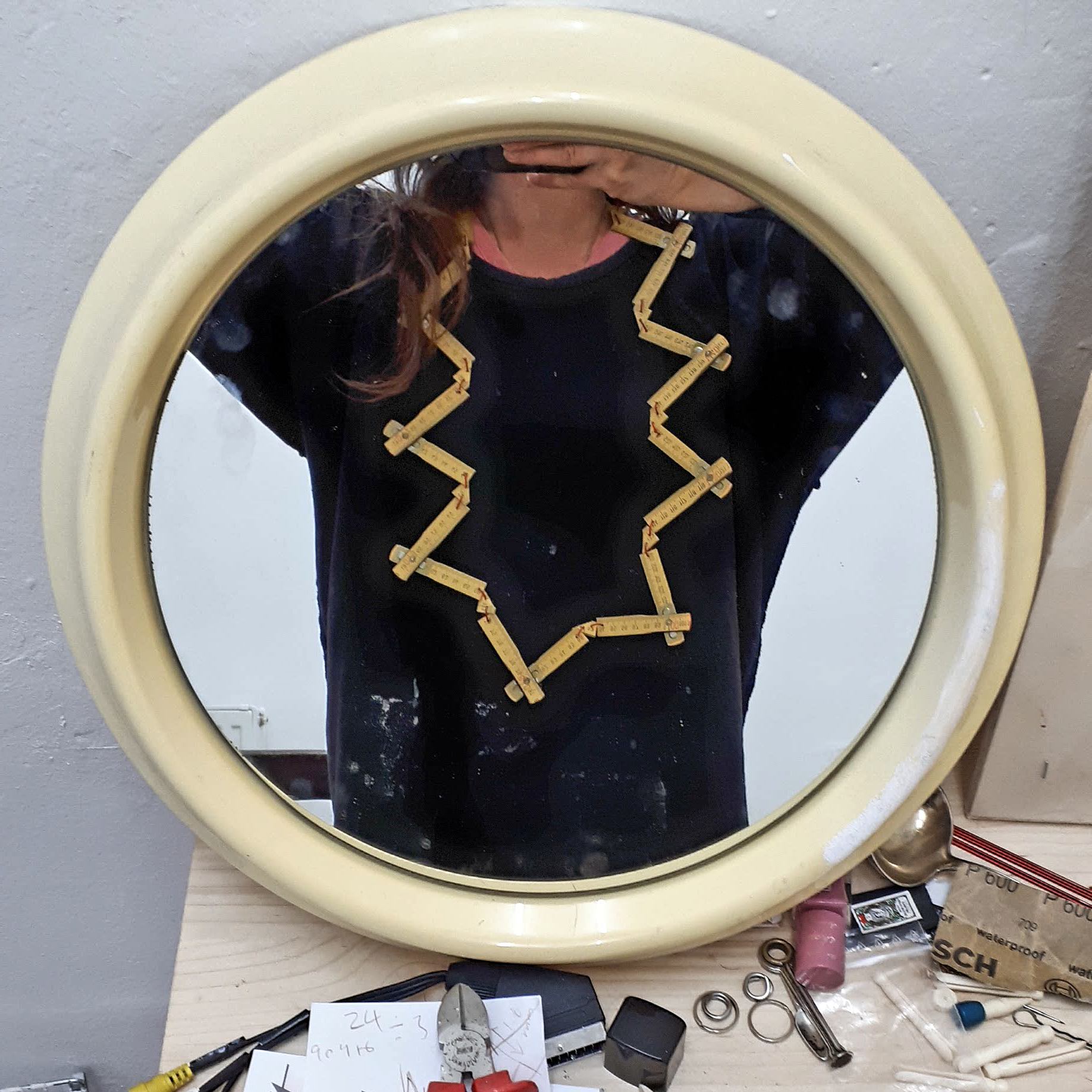 Arriving with the onset of Spring at the Hauptstadtstudio, I started exploring my surroundings by biking around the streets of Friedrichshain, taking a vaguely triangular route which was intuitively aimless. Following a March of intensive 'seeing', first working at Frame during Schmuck as part of the IWA team, then visiting Reyjkavik in Iceland for some amazing natural wonders and a peek into the art scene, followed by an intense schedule of cultural institutions in London; it was refreshing to not have a fixed destination in mind. My wanderings allowed me to 'happen' upon places, seeing with no pre-conceived impressions or even too much historical significance (yet), childlike wonder intact.
I was influenced by a film I had watched about the Icelandic concept of InnSæi, which can mean a multitude of things but revolves around intuition, empathy and feeling connected...being led by an inner compass.
One of the first things I noticed and started collecting were the posters layered on pillars and electrical boxes, some clumped so thick they were peeling off like paper waterfalls onto the streets. Advertising all sorts of gigs and events they encapsulated a slice of Berlin at that particular time. Where I ripped the posters off their mountings showed white against the pale blue paper backs, like clouds, which I liked. These posters became the paper mache geometric 'rubble' pendants.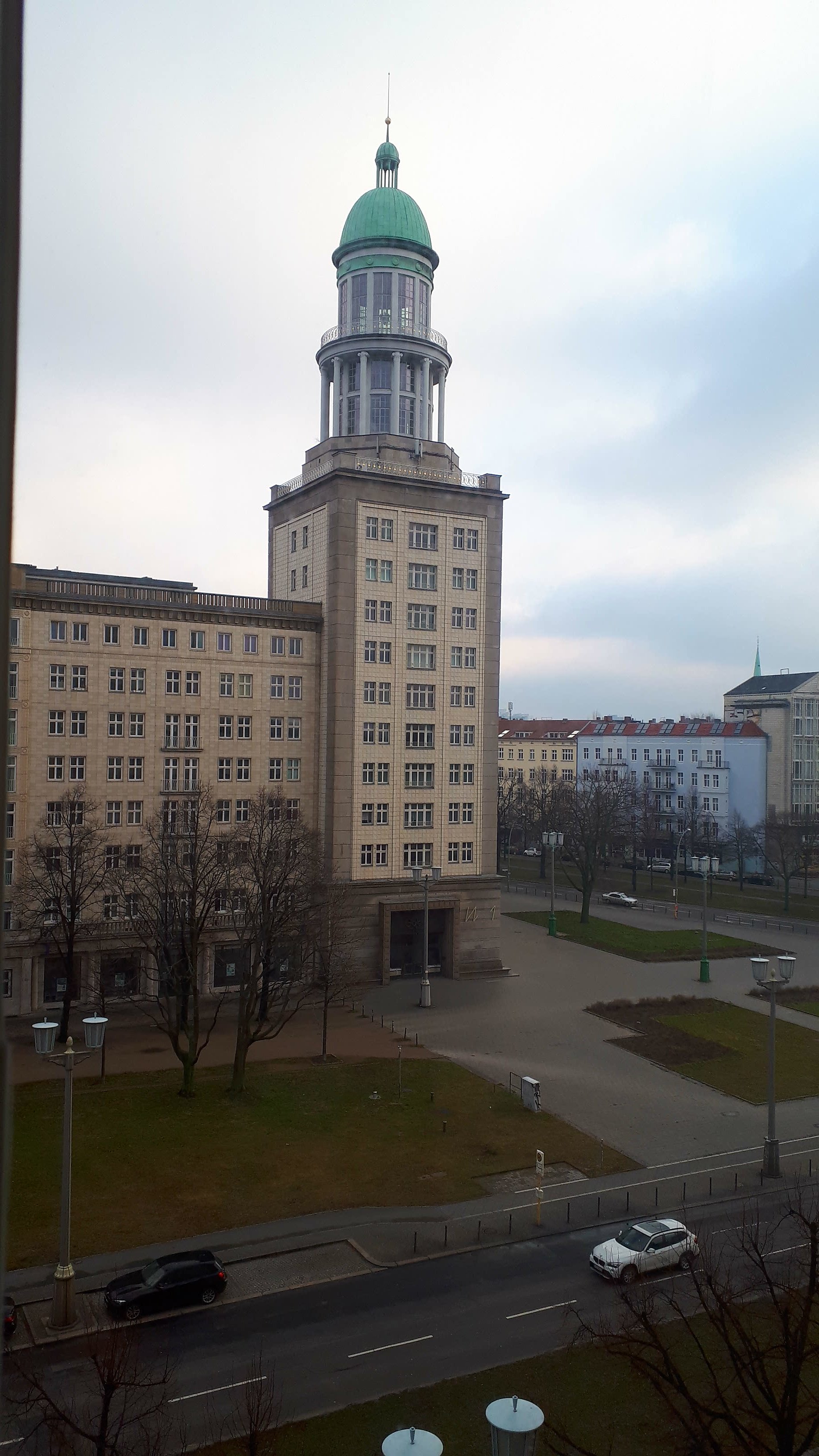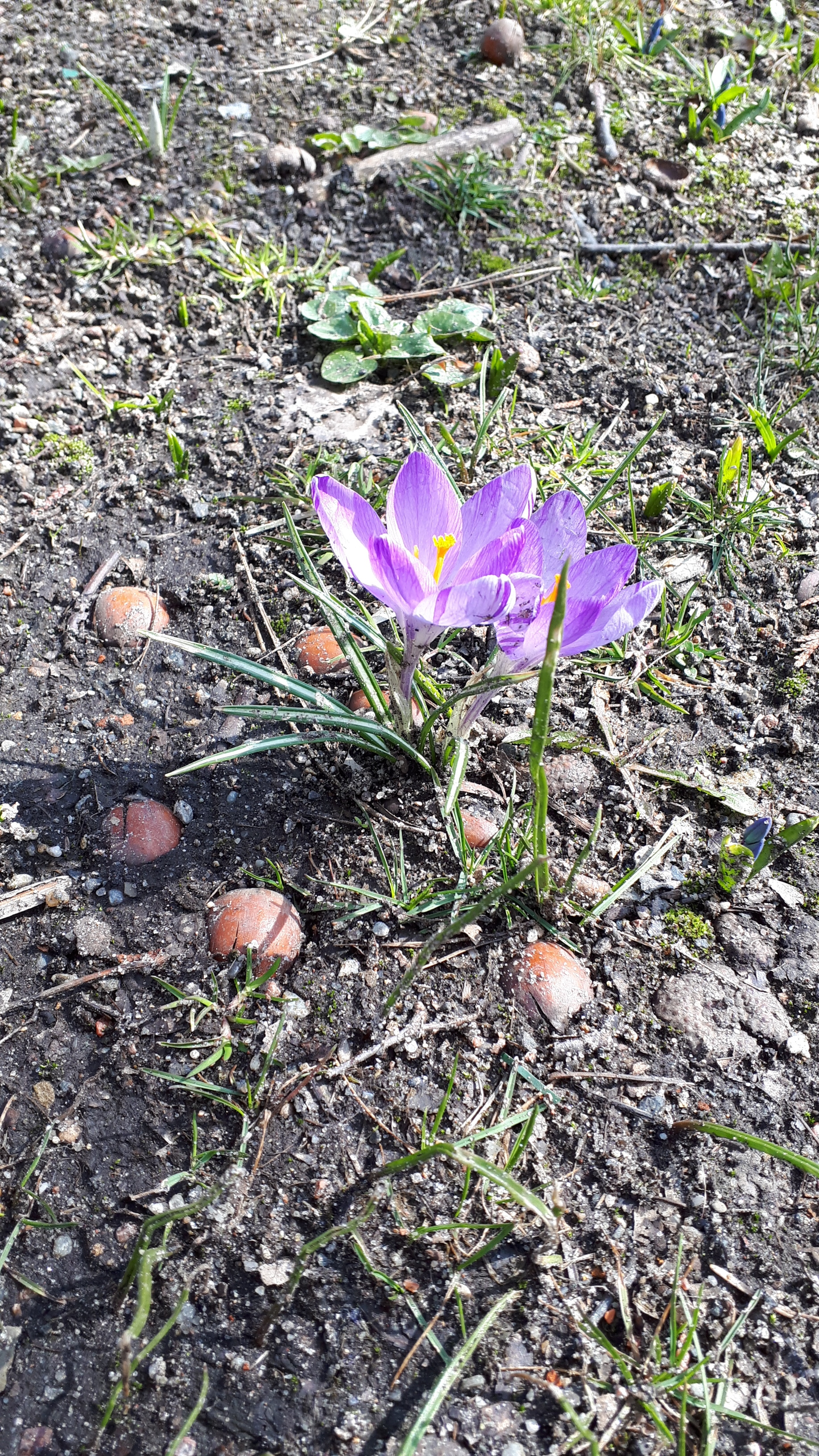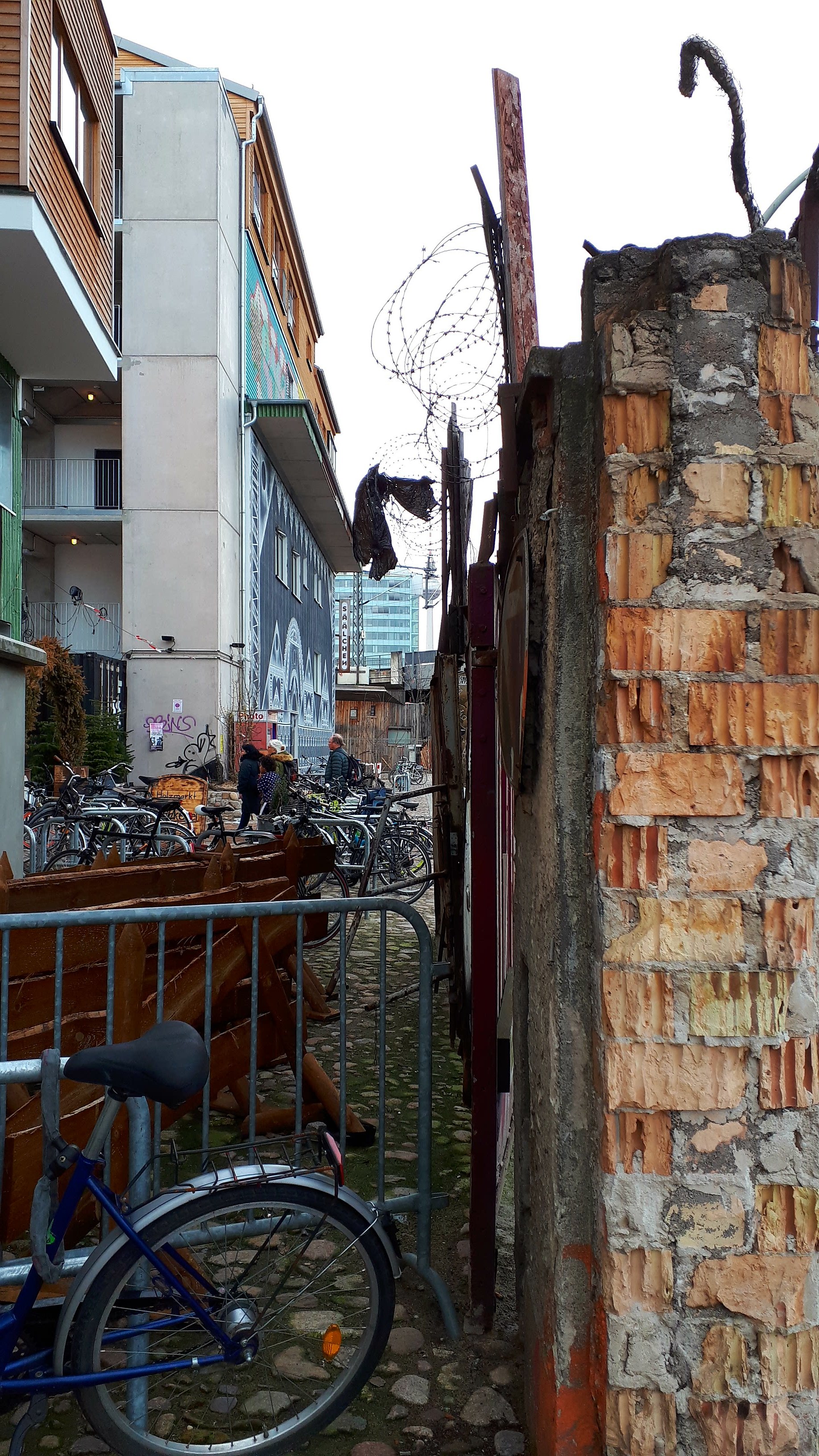 On an overcast morning on day 5 I set off on a bike mission across the Spree river to visit an old airfield which was turned into a park called the 'Templehofer Feld', following a public referendum in 2014. Since 2015 several hangars within the massive structure of the Nazi era airport have controversially acted as temporary housing for refugees. I wanted to visit the newly opened container village beside the old airport, which was initiated in 2017 as a better quality and longer term housing solution.
It was a strange day to visit the park, known for being a bustling gathering point for picnicking Berliners on a sunny day. The wind was sweeping up the long empty runway, solid looking clouds congealing heavily behind intimidating airport terminals. The air traffic control tower and stark white rows of containers contrasted with colourful unidentified circus-like tents.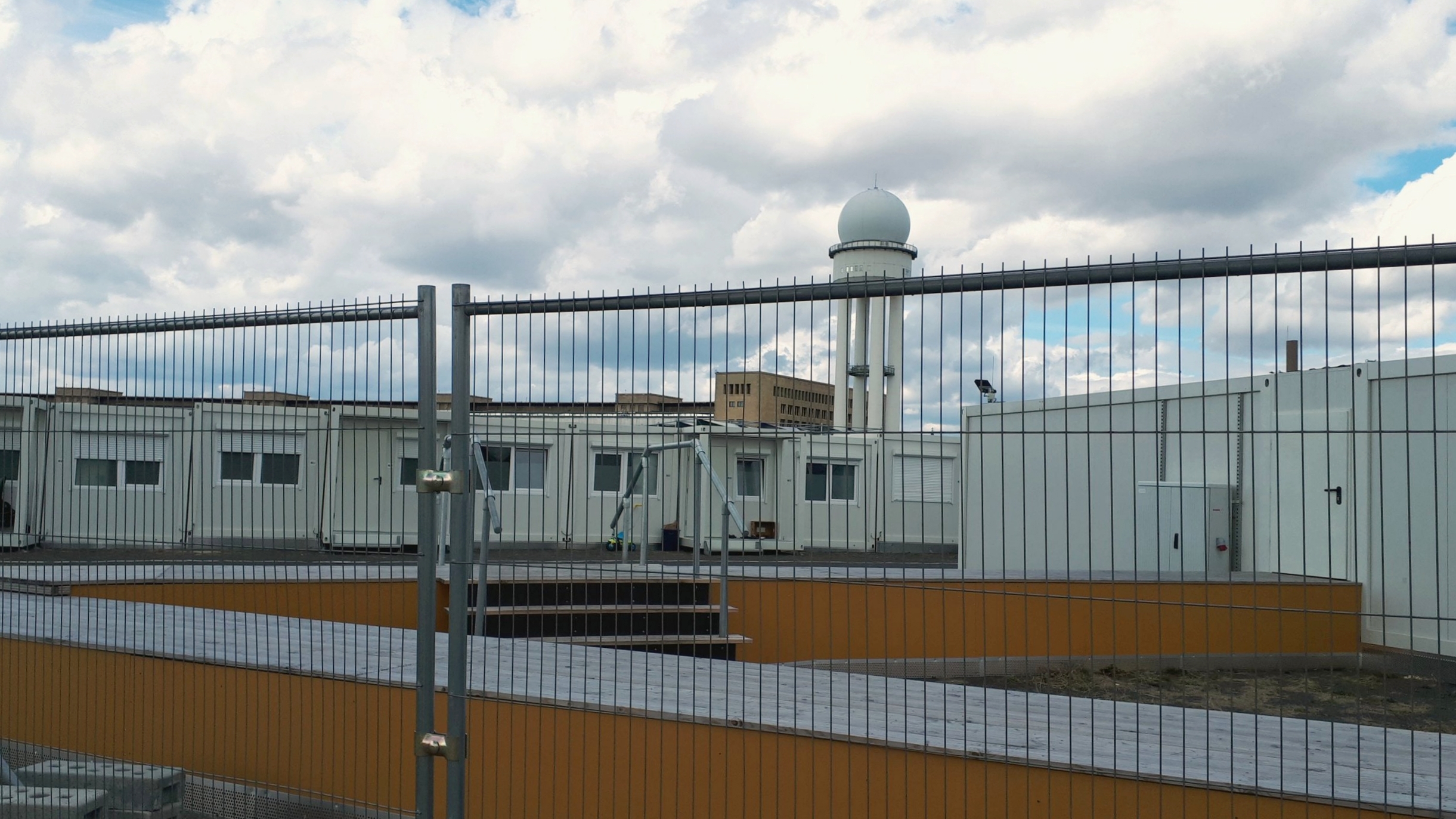 Peering curiously through the white rectangular gridded wire fence encircling the containers, I wonder if they are inhabited yet, targeted by a security vehicle while photographing the strange scene, I turn my green bike back down the pink centre line of the runway and cycle away, powered by a strong desire to weave some colour into the fence or something...to help make the environment more homely. Later I read that spontaneous efforts by the newcomers to add a little colour and personalise their living space in the hangars had been banned due to some offensive imagery and the historic status of the building. Perhaps here it will be a a different story? On a later trip to the 'feld' when I joined the picnicking Berliners on a sunny day, I wondered if the families being housed nearby were joining our grilling numbers.
The same day on my way back through the rapidly gentrifying Neukölln I spied a white grid poking just far enough out of a construction skip for me to nab. Choked up with plaster, it reminds me of the fence at Templehof. Later in the month I wrap some of the mangled metal found at Teufelsberg around the grid, emulating the flag-like remnants of posters seen on construction fences around the city as a small gesture of beautification, dreaming of offering the same to those who have lost their homes and countries.
The previous evening I had joined in with an English language conversation group for refugees and migrants run by Give Something Back to Berlin organisation, and was glad to talk with a group of three students originating from Syria and Iraq, led by a teacher from Poland. All had good German and English language skills as well as their native tongue and were either employed or studying, having being settled in Berlin for a few years at least.
Another site which was hugely influential for me during the residency was Teufelsberg. My excellent hosts Das Institut für Alles Mögliche -The Department of Anything is Possible, had recently secured a space at the dilapidated Cold War era listening station, which is built on top of a hill made of the rubble of Berlin from WWII. The rubble, said to be the detritus of 400,000 destroyed homes of Berlin, covers a never finished Nazi era military college, too solid to demolish. The geodesic dome-topped spy station structures I was lucky to wander freely around, are now a open air street art gallery, privately owned but open to the public. During my explorations I collected plastic and metal remnants from the structures, some old electrical parts and wires, as well as managing to whisper into my own ear thanks to the circular echo in the still-complete top dome.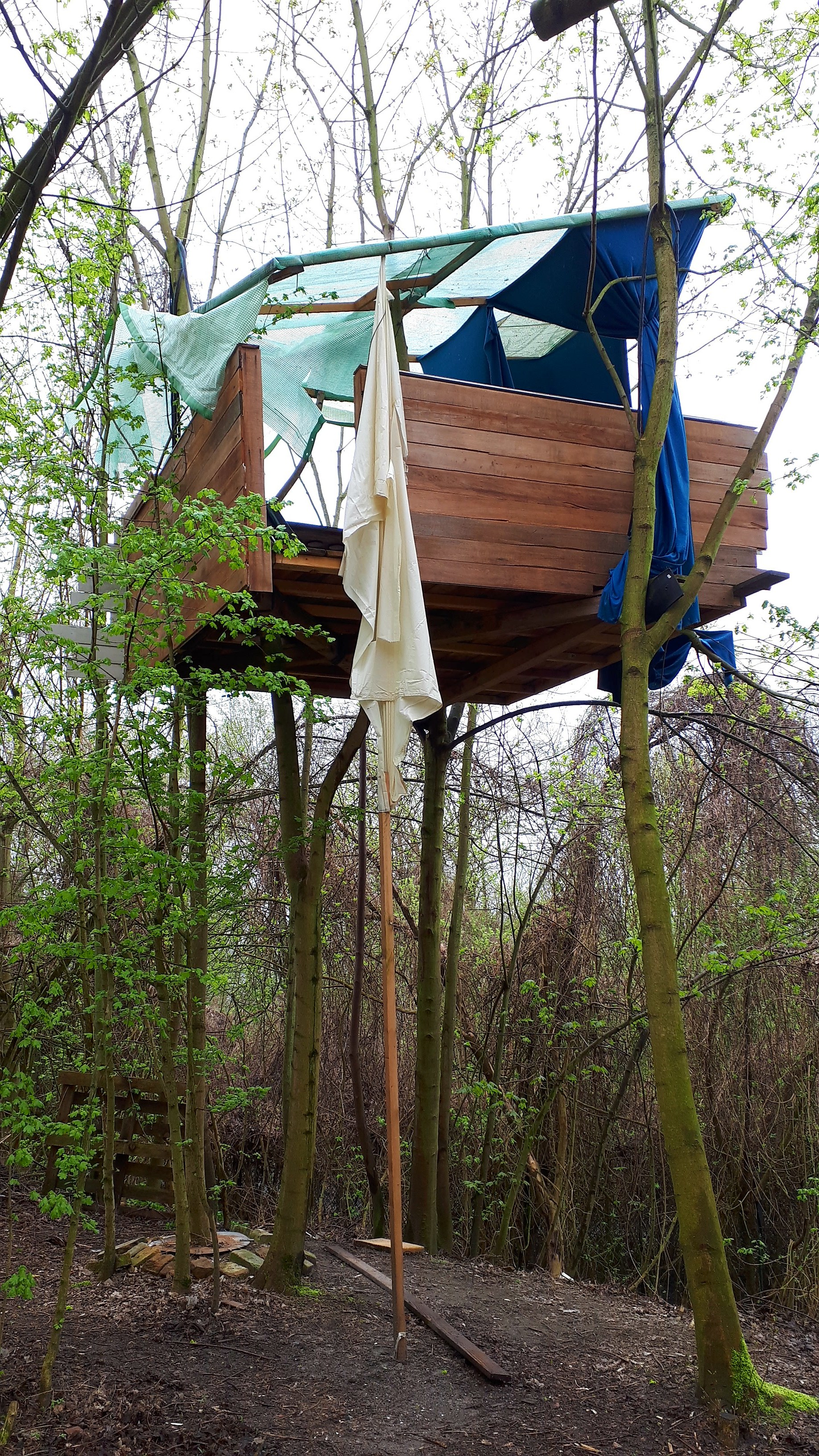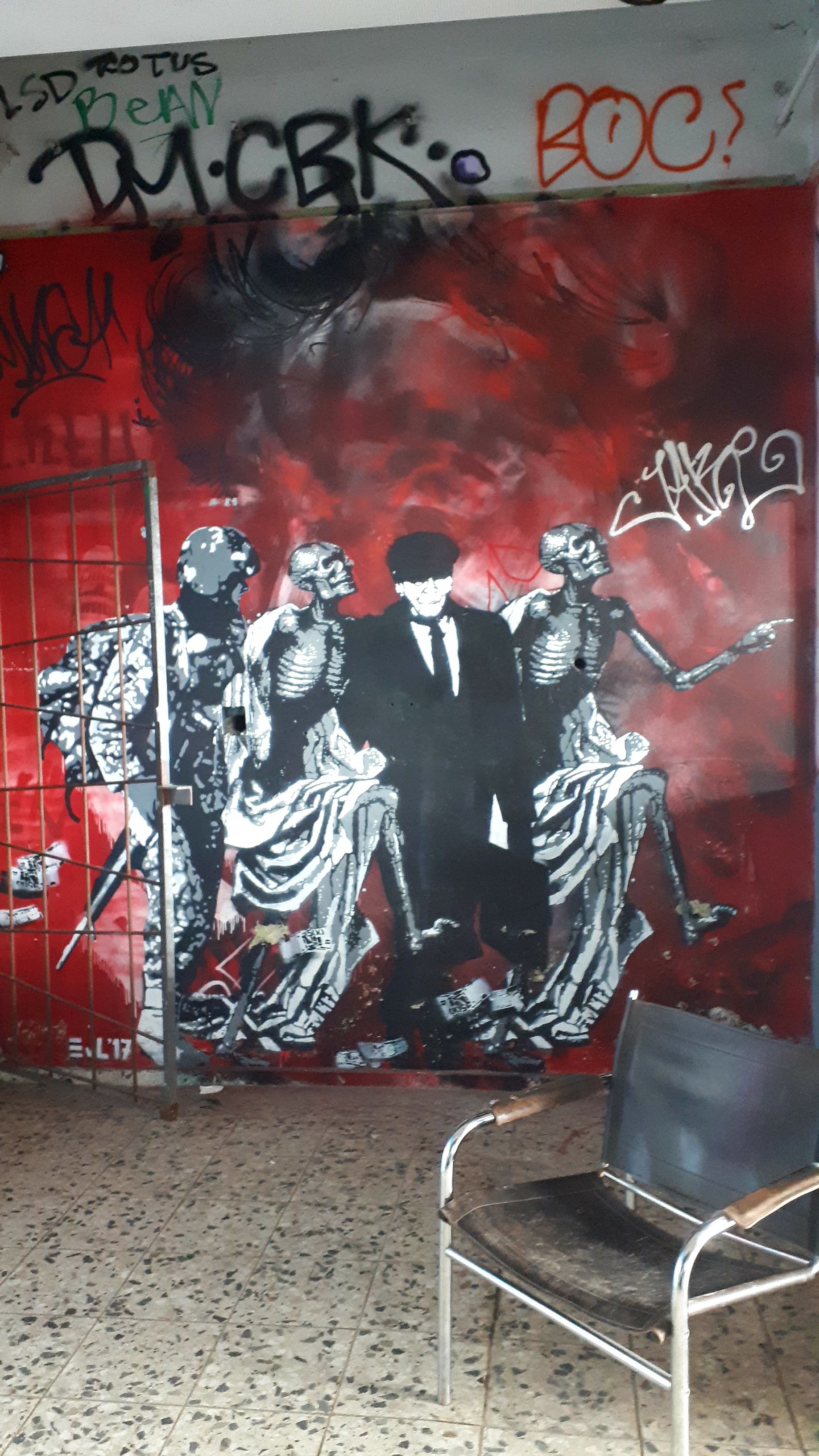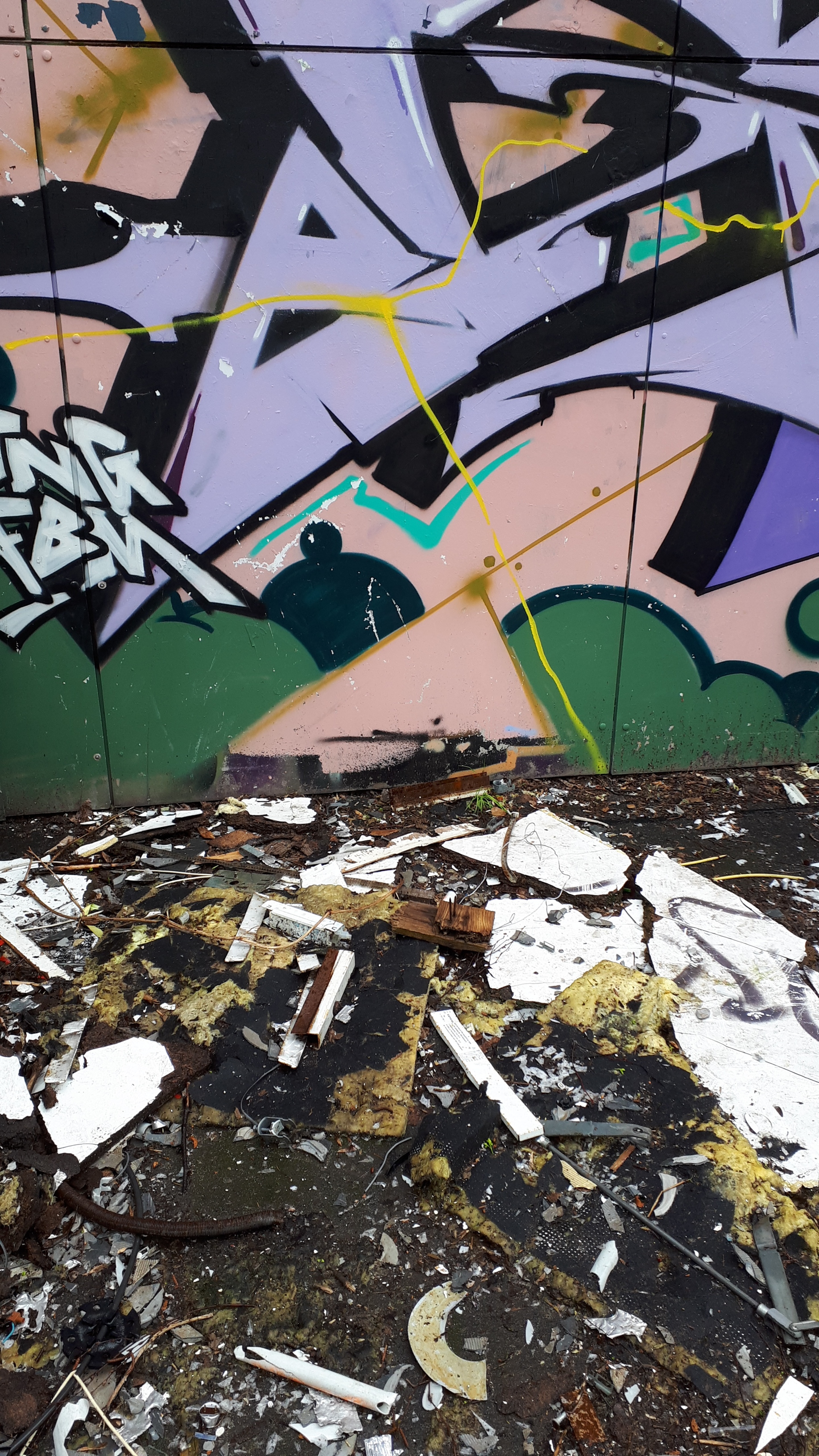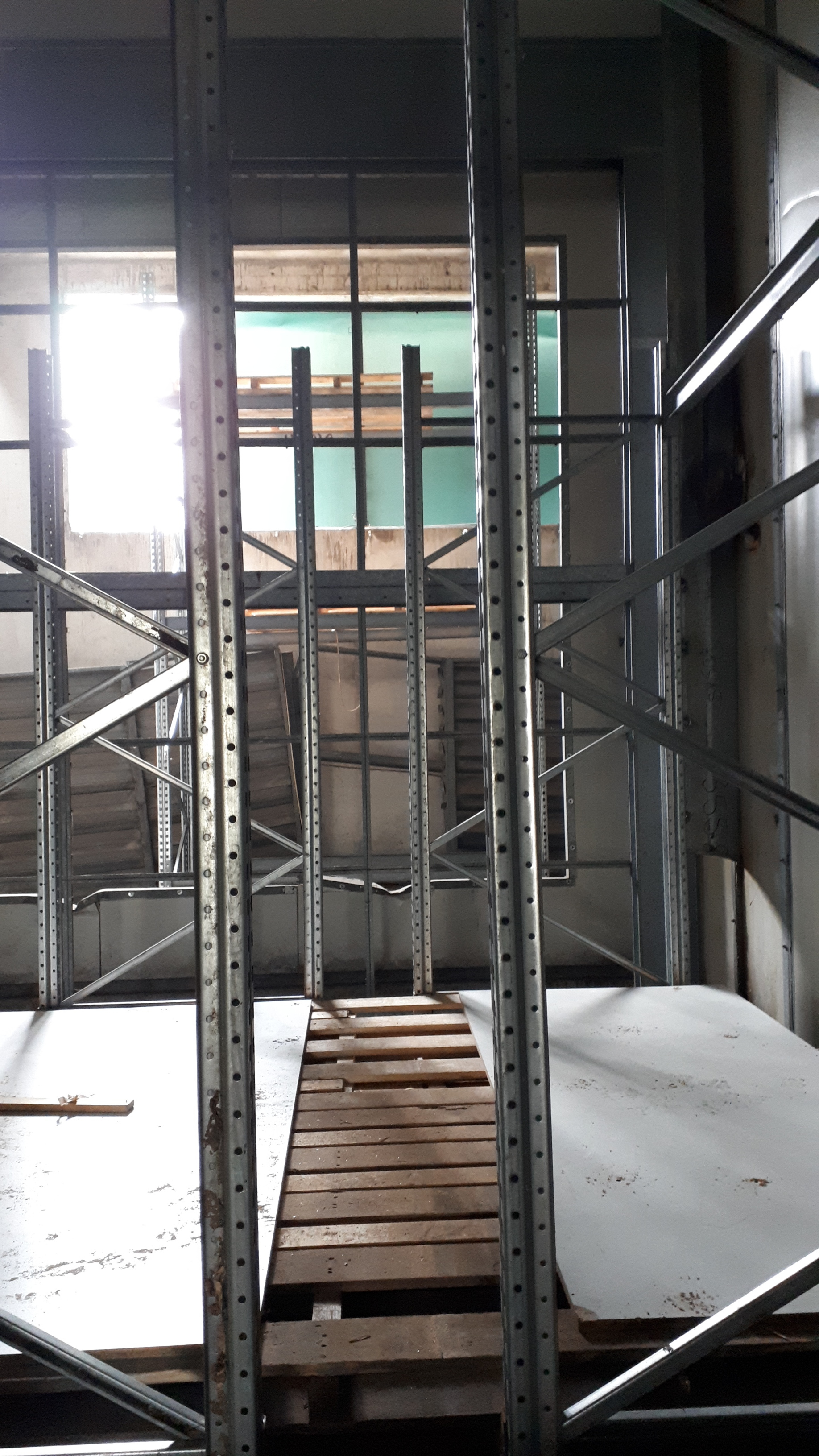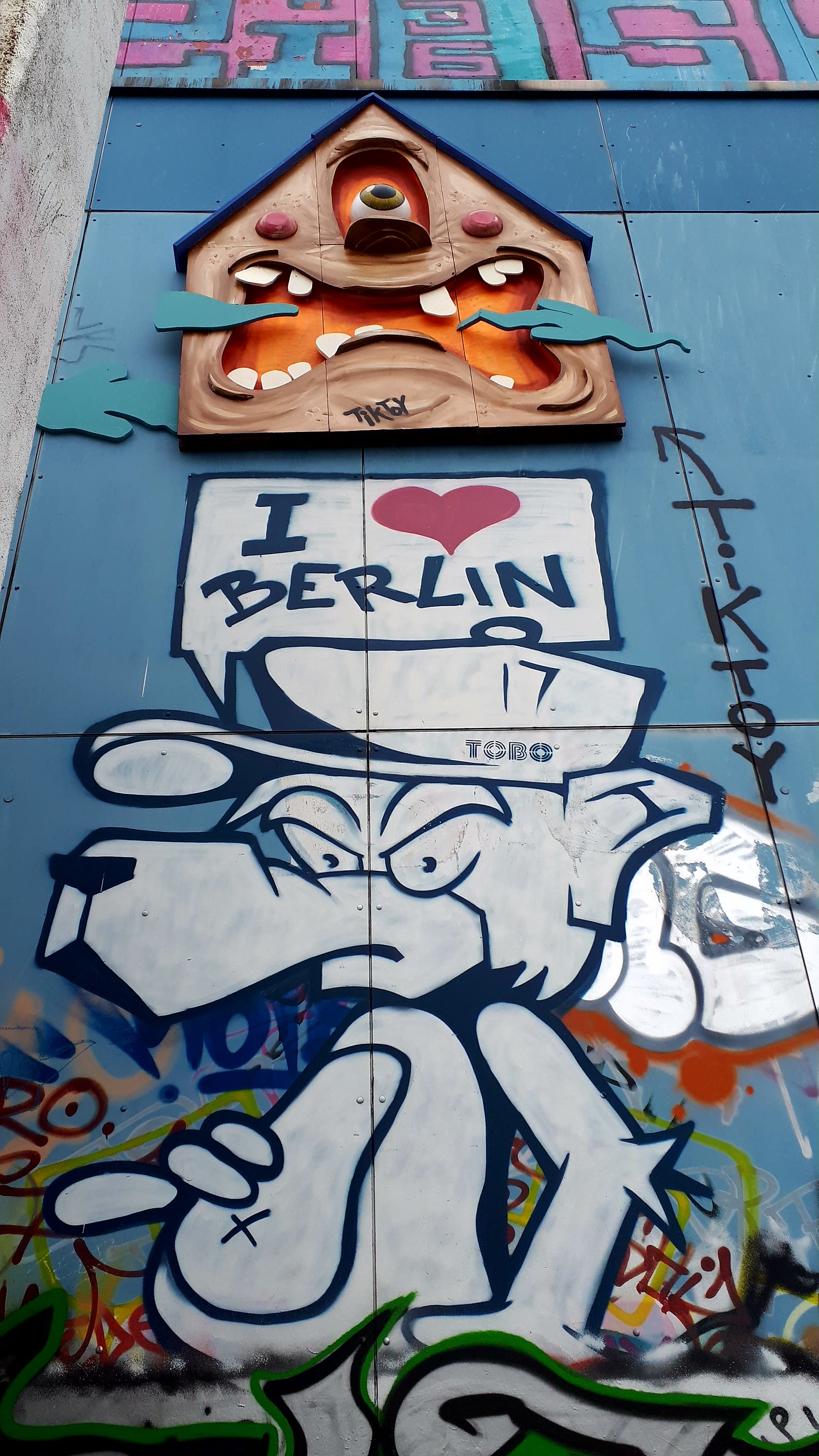 My first impressions of Berlin were idealistic but enduring, of a place reborn and still in a state of flux... built up by it's inhabitants from the rubble of war and cruel politics. There is a fierce creative energy which is a magnet to artists, unlike anywhere I have been before this seems to be embraced by the governing elements of the city; so that collective action yields results, creating a city for communities of all varieties to thrive.
I tried to select materials that would help to express this sense of being part of a collective creative movement, illustrating the many layers of the city and it's past, present and future. I wanted to use materials that no longer had a function, were obsolete, no longer relevant or found languishing unwanted in a dusty corner. As well as the materials found in the skip in Neukölln and at Teufelsberg, I found some fabric and embroidery work in a clothing bin overflow and a few electrical bits/boxes off the street and in my apartment's nicely ordered rubbish room.
Visiting Sunday fleamarkets including Mauerpark, Arkonaplatz and Boxhagener Platz ... I collected materials that stood out to me as particularly 'of the place' or time, somehow representative or stereotypical of a bygone era of Berlin/Germany. Conscious of my fresh gaze as a first time visitor to Berlin, these would become my own constructed souvenirs, using bits and pieces rather than fully intact objects. A couple of antique shops in Friedrichshain yielded the old woven carpet beaters which were crying out to me to be revamped as necklaces, and a few other kitschy objects to add to the mix.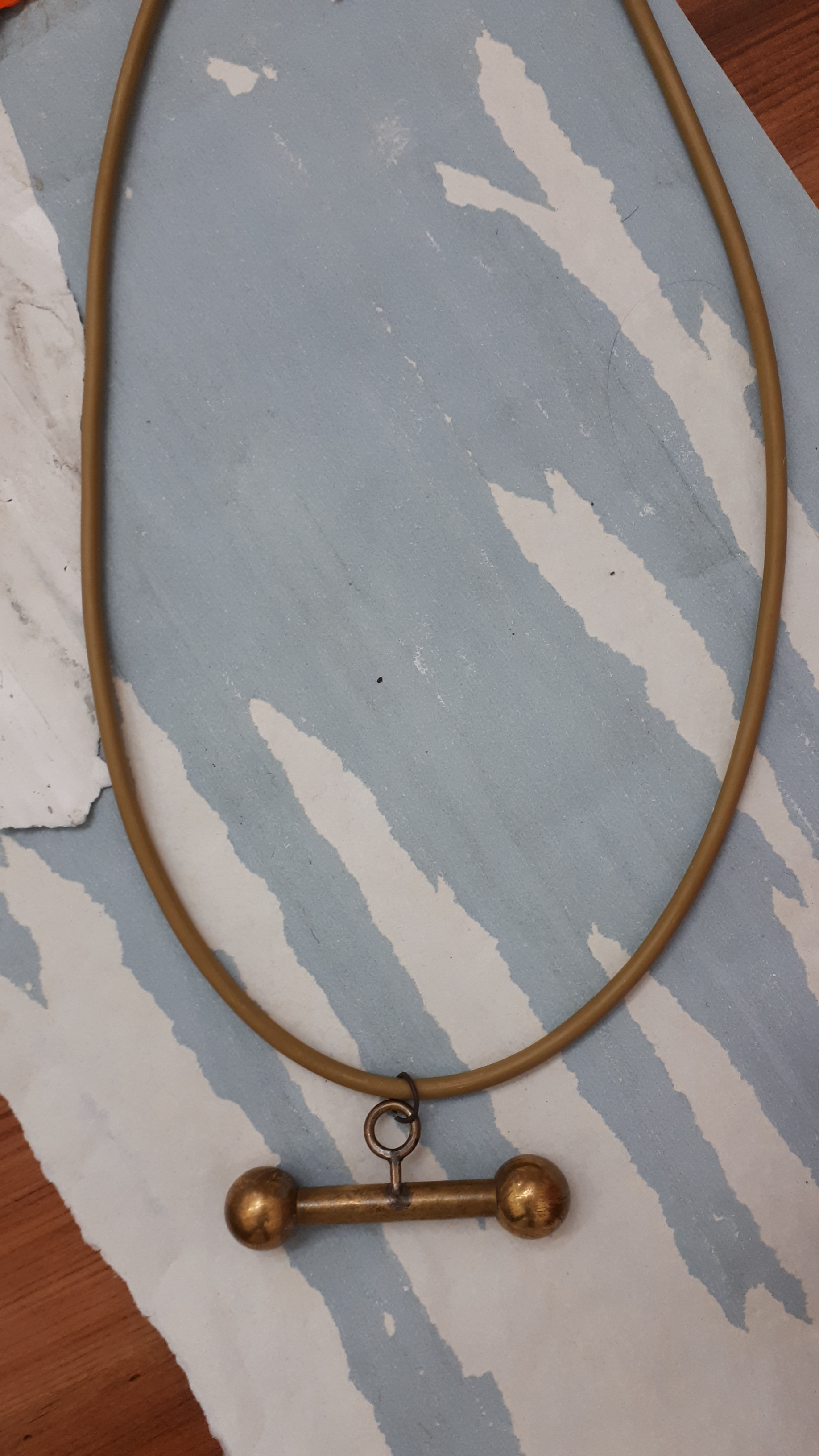 There were some logistical parameters to my methodology as I had a basic workshop set up not geared to jewellery making. A power drill borrowed from the Institut, some hand tools and my sawframe from NZ, plus some good thick industrial glue and a shiny new vice were my tools for the month. It was important to me that my constructions were able to be worn, even if pushing the boundaries of wearability. I didn't want anything to exist without some connection to at least one of the other pieces to be created. Each one had to express something of my experience in Berlin, and be generated from the found materials.
I had an intense month of discovery, collecting, making and experimenting, ending up with over 20 individual works plus a few materials to bring home. My last night culminated in a collaborative group show with fellow residents of the Institut für Alles Mögliche at the special exhibition space of the Abteilung für Alles Andere. This was a great chance to come together and celebrate with my crew of co-creatives from Chile, America, Sweden, Russia, Poland and Germany... all of whom wore my works throughout the opening evening, also part of the annual city-wide Berlin gallery weekend for 2018.
Now back in NZ at Workshop6 I'm continuing to resolve some of the jewellery pieces conceived in Berlin as well as starting to make a second generation of work leading on from the first. My purpose in this is extend beyond the found materials, linking the new forms, techniques, ideas and material knowledge with my existing practice and creating more easily wearable works. I'm viewing these derivative works as stepping stones. It's important to me that the residency project doesn't exist in a vacuum and continues to inform my work. Through this residency I've regained a huge amount of enthusiasm and freedom in my making as well as expanding my visual vocabulary and connecting to an international creative community. Thanks for having me at the wonderful Institut für Alles Mögliche.